Prep 15 mins
Cook 10 mins

This is a great way to cook tillapia. My friends always request this when they come for dinner and my 11 year old son adores it.
Directions
Preheat oven to 400 degrees F.
Combine the first 3 ingredients in a small bowl.
Combine the remaining ingredients in another bowl.
Coat each of the fillets with the honey-mustard mixture lightly.
Sprinkle the breadcrumb mixture over the fillets coating them evenly and well.
Bake until the fillets flake easily with a fork (about 10-15 minutes).
Reviews
Most Helpful
I made this tonight for just myself, I didn't have the pecans but it still turned out great. Thanks for posting.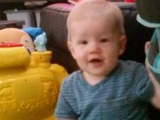 This was a hit here!! So easy and delicious. I broiled it for a couple minutes to get it browned. Thanks for posting!
So, so good!!! Easy to prepare with things I normally have on hand and so delicious! Even my finicky 4 year old ate a whole piece and asked for more! I broiled a bit at the end to crunch it up a bit but otherwise followed the recipe as written. Definitely a keeper!