diner524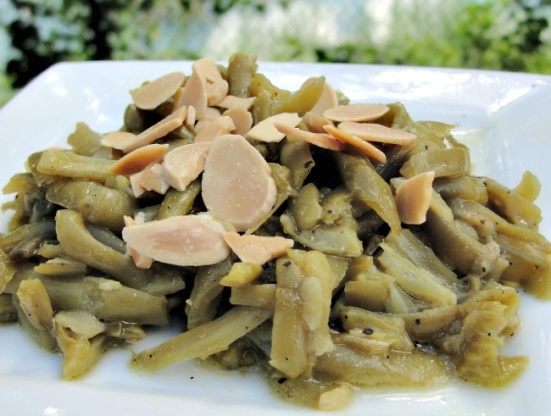 This recipe is from greengiantfresh.com
OMG!! Never expected this to be one of my favorites for the Quest, but it sure is!! I made this using canned French Style green beans (what I had on hand) and only made 1/2 of the recipe. I made it twice, once with just the sliced almonds and then again today with toasted sliced almonds, ding, ding, ding, it's a winner. So many times the saying rings true, keep it simple. I was worried that the honey would make it too sweet for our tastes, but it is very subtle, just get a slight sweetness at the end. Toasting the almonds made a huge difference, highly recommend it, and we will be having this way from now on. Thanks so much for posting this recipe Lynn!! It's a keeper!!!
1

tablespoon honey

2

lbs green beans, fresh, ends trimmed off

2

tablespoons almonds, sliced (optional)
Mix butter and honey. Set aside.
Heat 1 inch wter to boiling ina 4 quart pan. Add green beans, heat to boiling; reduce heat. Boil uncovered 5 minutes. Cover and boil 5 to 10 minutes longer or until crisp-tender; drain.
Toss beans and honey mixture. Sprinkle with almonds.