Home-Made Chili from Scratch
Tonia R.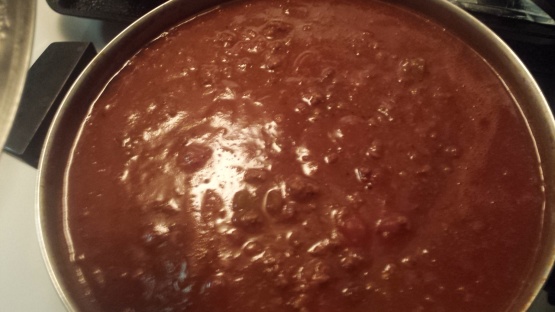 Chili made with Home-made Chili Powder, Medium Heat. (To lower the pepper heat, use less Cayenne or Serrano)
Combine cumin, sugar, salt, cayenne pepper, black pepper, garlic powder, and paprika into a small bowl and fold together.
Use 2 Tablespoons of the spice mixture to season and brown the Lean Ground Beef.
Drain 50% of the fat from the Lean Ground Beef, and leave the rest in the meat.
Combine in a 10 Quart Pot the Tomato Sauce, Chili beans, Diced Onion, Diced Tomatoes, Diced Serrano peppers, and Diced bell peppers (optional).
Add the remainder of the Spices to the Tomato Sauce and stir over medium heat for 15 minutes until it begins to boil.
Add the Browned Ground Beef and remaining fat to the Tomato sauce and stir completely in, Turn heat up to Medium High for 5 Minutes then turn back down to Medium Heat.
Cover Chili and Cook on Medium Heat for 40 Minutes, Stir occasionally.