JustJanS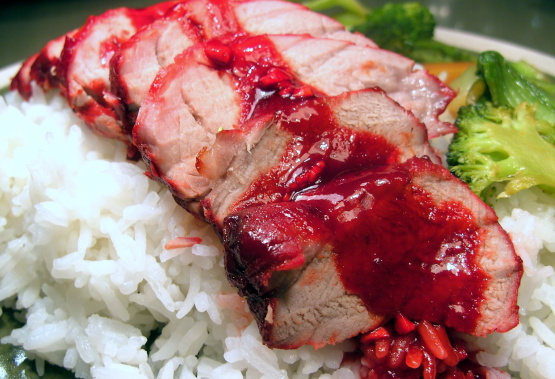 This is a recipe I came up with the other night as I had a pork loin to use up. I didn't know what I wanted to do with it so I just used a bunch of stuff I already had in my fridge and cupboard and it turned out really well. I served ours over egg and vegetable fried rice but it would be just as nice served over steamed rice as well. Prep time does not include marinating time.

I did a 2 lb pork tenderloin, doubled the sauce recipe (substituting rice wine for bourbon and honey for maple syrup because thats what I had on hand) and cooked this in the crockpot on high for 4 hours. Meat was flavorful and super tender over fried rice.
Combine all the ingredients in a bowl, add pork fillet and marinade several hours or over night in the fridge.
Pre-Heat oven to 180 degrees Celsius, remove pork from marinade, reserving marinade, place pork in an oven proof dish, roast for 35-40 Min's or until cooked as desired, basting occasionally with marinade whilst cooking.
Remove pork and cover to keep warm.
In a sauce pan pour remaining marinade along with pork juices and bring to the boil, Simmer a few minutes.
Serve pork sliced over rice with sauce.