Hockey Sticks and Pucks Cookies
Pamela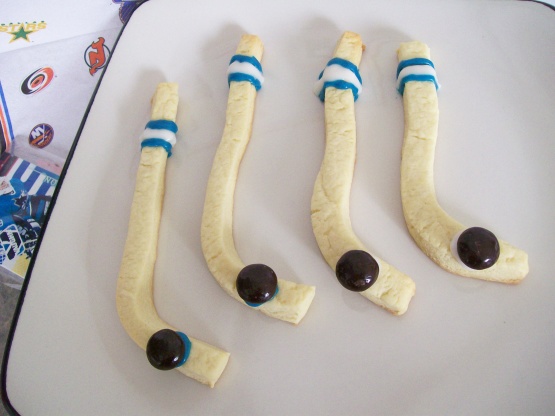 I made these for my son's hockey birthday party treat bags.

These turned out really well (my husband coaches a kid's hockey team and we brought these for a Christmas party). Mine didn't turn out as cute as yours, but they were certainly a hit with the kids!
Lightly grease cookie sheets. Let dough stand at room temperature about 15 minutes.
Combine dough and flour in large bowl; knead until well blended.
Divide dough into 24 pieces. Shape each piece into 6-inch-long rope. Place ropes on prepared cookie sheets; bend ropes about 1-3/4 inches from ends to form hockey stick shapes. Freeze about 10 minutes.
Preheat oven to 350°F Bake 8 to 10 minutes or until lightly browned. While cookies are still hot, place one mint on bottom part of each cookie for puck. Cool completely on cookie sheets.
Decorate with icings as desired.