Rita1652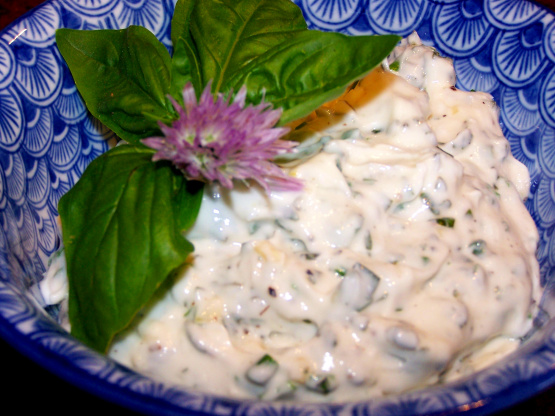 Yogurt thickened by draining overnight and then seasoned with fresh herbs. If you have an herb garden this is outstanding! (Still good if you pick your herbs from the produce section at the grocery store) "Cooking" time includes overnight draining of yogurt.

This is wonderful! I loved it! Thick and creamy! We will be dipping veggies into this. Healthy, so no reason not to enjoy. I did use 3-4 cloves garlic not the 4 tablespoons called for. 4 minced tablespoon basil, 1 tablespoon rosemary, 1 tablespoon minced chives. All garden fresh! This would be delish on a baked potato. I do wonder if the reviewer Saradbo used dried herbs that would bring this to a very highly seasoned dip. If using dry do cut back to 1/3 the amounts. Thanks for great eats!
Line a strainer with a paper coffee filter. Suspend strainer over a bowl.
Spoon yogurt into filter. Cover and refrigerate at least four hours. Discard strained liquid (or use in cooking).
Combine yogurt and herbs. Mix well. Add salt and pepper to taste ( I like lots!).
Serve with chips or veggies.