Herbed Tofu Lasagna With Zucchini
Maito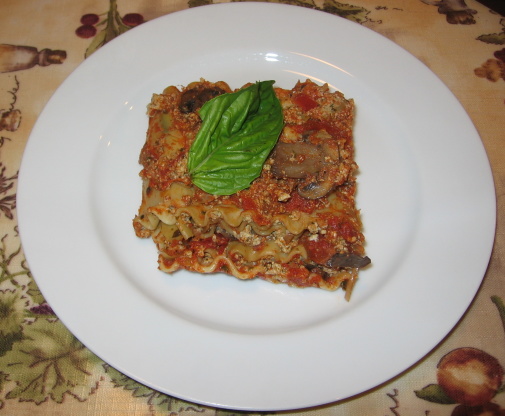 In this recipe, herbs and seasonings are added to tofu and mixed until creamy, and is used in place of ricotta cheese. It is important that you use the best marinara sauce you can find, and then drizzle each serving with the extra virgin olive oil. From VT April 2006.

the tofu blend out of the blender was incredible. Like a creamy pesto but I think that cooking it for so long really makes it lose a lot of its incredible flavor. I give this recipe 4 stars just because I think it has such promise. Unfortunately, I think the long cook time is due to the no boil noodles...as I didn't have those I had to improvise a bit and cook mine ahead. As I can't eat gluten it unfortunately meant that my noodles were overcooked. That said, in future I think I could just cut the cook time to 20 or 30 minutes. It would retain a huge amount of flavor and the noodles won't be soggy. The tofu "ricotta" mixture will be an absolute keeper for me and probably find its way onto lots of other pasta dishes!
Preheat oven to 350°F; coat a 13x9-inch baking dish with cooking spray.
Toast pine nuts: Place them in a dry skillet over medium heat. Cook, stirring constantly until golden (about 3 minutes).
In food processor, combine tofu, basil, parsley, toasted pine nuts, garlic, lemon juice, salt, red pepper flakes, and sugar. Blend until smooth and similar in texture to ricotta cheese.
In large non-stick skillet, heat oil and sauté the zucchini on medium-high heat just until they're tender (about 3 -5 minutes).
Spread 3 tablespoons of the marinara sauce on the bottom of the prepared baking dish. Cover with a layer of noodles, overlapping them slightly.
Layer as follows:.
1/2 of the tofu mixture.
1/2 of the zucchini mixture.
Layer of noodles.
Remaining tofu.
Remaining zucchini.
1/2 cup marinara sauce.
Layer of noodles.
Remaining marinara sauce.
Cover pan with foil and bake 1 hour. Let rest 10 minutes before serving.
Drizzle olive oil on each serving.