Herb Mustard Grilled Chicken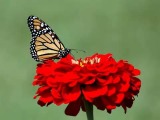 You will be pleasantly surprised how tender and flavorful your chicken breasts will turn out. Recipe is from my Simply Colorado Too! cookbook. Prep time does not include marinating time.
Directions
Whisk the lemon juice, dijon mustard, parsley, basil, lemon zest, oil, salt and pepper in a bowl. Pour over the chicken in a shallow dish, turning to coat.
Marinate, covered, in the refrigerator 4-10 hours, turning occasionally. Grill the chicken over hot coals for 5-6 minutes per side or until cooked through.