ileanatr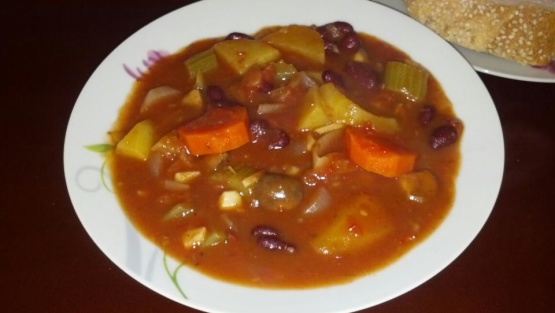 This is a thick, hearty, and delicious stew from Lean and Luscious and Meatless. Just add a salad and some bread and your meal is complete!
We had this for dinner tonight and it was great. It made a lot and there is plenty left for one or two more meals. <br/><br/>I cut up all of the vegetables last night and this morning everything went into my large Crockpot. It cooked all day while I was at work and we sat down to eat as soon as I got home. I was going to add some flour and water to thicken it a bit but it wasn't necessary, it was great just as it was. The vegetables came out perfectly, not mushy, just right.<br/><br/>I will definitely make this again - in the Crockpot!!
Heat oil in a large, heavy saucepan over medium heat.
Add onions, garlic, carrots, celery, and mushrooms.
Cook 10 minutes, stirring frequently.
Add small amounts of water, if necessary, to prevent sticking.
Add remaining ingredients, except flour, 1/4 cup water, and wine.
Cover, reduce heat to low, and simmer 30 minutes, or until vegetables are tender.
Stir occasionally while cooking.
In a small bowl, gradually stir flour into 1/4 cup water until smooth.
Add to stew, along with wine.
Cook, stirring, 5 more minutes.
Remove and discard bay leaf before serving.