JustJanS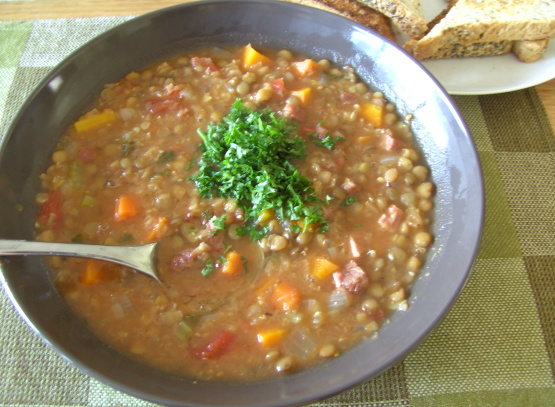 My kids love this soup, friends who think they don't like lentil soup, love this soup. Hearty, and delicious on a crisp fall day, warms you to the soul on a cold snowy winter night. I like to serve this with our favorite cornbread.

Super soup!! I used half homemeade chicken stock, half water, added in 3/4 cup celery because I like celery in most soups and finished this with some chopped parsley. Otherwise I followed your recipe. Wasn't sure which lentils to use, so I used a cup of red and a cup of green-the green hold their shape and the red go to mush and thicken the soup nicely so I think it was a good idea. I used 9 cups of water to get the thickness we like. Thanks for posting this recipe :-)
Mix all ingredients in large stock pot.
Simmer 2-3 hours.
Remove bay leaf.
Serve.