Healthly Crock Pot Vegan Great Northern Bean Stew
Mesa_Mom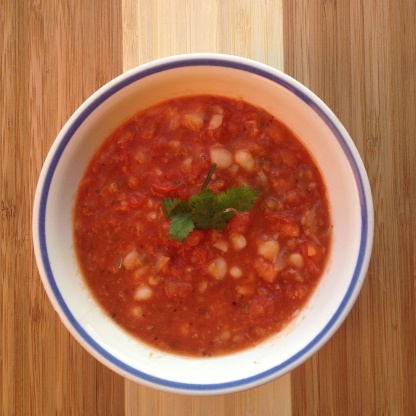 Comfort food for the Vegan in all of us. High fiber and rich in taste. Can be eaten hot, cold, over pasta or processed down to a bean dip with bite. Enjoy!
This was absolutely delicious: easy to prep, filling and satisfying. Even my family of picky eaters gobbled this one up and asked for seconds. I bet you could find all of these ingredients in your pantry and fridge right now. And, if you could not find the exact ones, this is so versatile that you could substitute and it would still come out fabulous. But if you can, stick to the original recipe. It's just that good! Thanks, "warmerwithin", for sharing this! Letting all my friends and family know of this one. LOVE THAT IT'S VEGAN AND TASTES SO SAVORY! Can be frozen.
16

ounces dried great northern beans, drained, washed and soaked overnight

2

celery ribs, sliced

1

white onion, chopped

2

cups carrots, sliced

4

garlic cloves, pressed

3

tomatoes, chopped

5

button mushrooms, sliced, brush off the dirt, DO NOT RINSE

1

lemon, juiced

2

cups vegetable stock
fresh cilantro, chopped (1 handful)

2

dashes red pepper sauce (to taste)

1

tablespoon basil (fresh or dried can be used, I prefer the paste)

1

tablespoon oregano (dried)

1

(6 ounce) can tomato paste
1 1⁄4 cups extra virgin olive oil
1⁄2 teaspoon truffle salt (or salt to taste)
black pepper or white pepper, to taste
Place the soaked beans in the crock pot with the 2 cups of stock. Turn pot on high. Create a sofrito with the onion, celery and carrots in the olive oil that has been pre-heated in a fry pan at medium high heat. Allow the onion and carrots to caramelize. Once the stock and beans are up to a warm temp, add the sofrito, oil and all from the fry pan. Make sure you scrape out all the fond for extra flavor. Add the remainder of the ingredients to the beans and allow to cook on high 2 hours. Lower the crock pot to low temp and cook another 6 hours. You can use as a side dish, main course, dip. This is so versatile and will warm the tummy with layers of flavor. I sometimes sprinkle a bit of fresh grated parm cheese over the top for the main dish.