Ultimate Great Northern Beans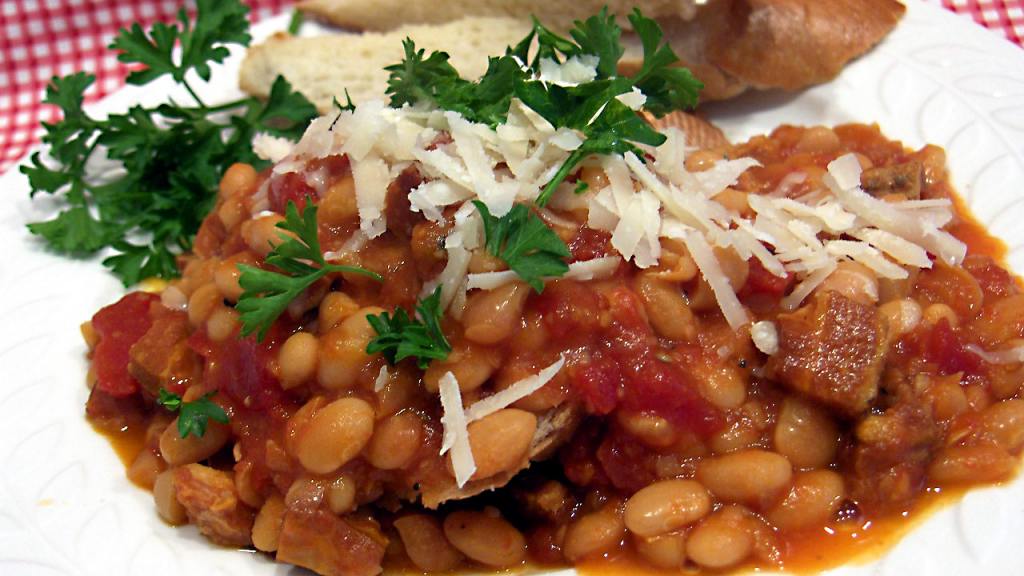 Ready In:

11hrs

Ingredients:

9
directions
Soak the beans in cold water overnight. Make sure that there is twice as much water as beans because they will swell up.
In a large cooking pot, pour in the cooking oil and toss in the smoked jowl pieces. Stir and allow them to sizzle over medium heat for 5 or 6 minutes. After they brown a bit, deglaze the pot with about 4 ounces of the chicken broth.
Add the onion and allow to simmer until the onion is tender, stirring often.
Rinse the beans in fresh water a final time and, after draining, add them, plus all the remaining ingredients into the pot. This should include the 48 ounces of water listed in the ingredients.
Boil, covered, over low heat until beans are tender, stirring occasionally (about 2-3 hours).
Serve with cornbread, fried potatoes, eggs and biscuits.
If you wish, you can use chunks of ham or bacon instead of pork jowl.
Join The Conversation
Okay.. so i made this recipe with a few tweaks and it turned out amazing!! I soaked the beans over night, drained, and rinsed them. I used 2 lbs instead of one. I boiled 2 smoked turkey legs in water to cover for about 2 hours until the meat was tender. I took those out of the water and shredded the meat returning it to the pot. From there I followed the recipe but I added fire roasted tomatoes instead of the rotel, I added 4 chicken bouillion cubes, 2 bay leaves, I added 2 minced cloves of garlic, 1 medium onion diced, 1/2 green bell pepper, 1/2 a stick of butter and 1/2 pack of liptons onion soup mix.