Prose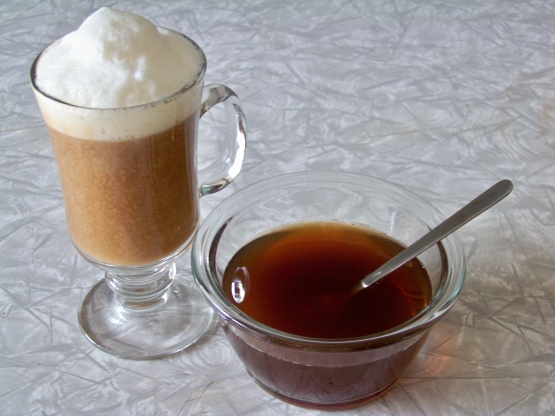 I just love a hint of hazelnut in my coffee, and the grocers never carry hazelnut syrup when I need it. I adapted this from a basic recipe at CDKitcheon's web site and loaded it here for safekeeping. Some pharmacists recommended adding 1 to 2 teaspoons of corn syrup to help keep the consistency of the simple syrup smooth for storage, although the addition of spirits prolongs the shelf life indefinitely according to the International Cocktail Database. To use Splenda, use 2 parts granulated Splenda to 1 part water for a concentrated simple syrup.

I also could not find hazelnut extract anywhere, so I made it with almond instead. It was really simple and a lot more economical than buying (assuming I can find hazelnut extract anywhere!) I will try it with hazelnut liqueur at some point, but I also want to try it with mint extract for hot chocolate. Thanks for a budget saving fantastic recipe.
In a saucepan with a tight fitting lid, combine the sugar and water. Bring to a rolling boil, stirring constantly. Cover immediately, remove from the heat and cool completely.
Transfer simple syrup to a measuring cup and stir in the extract or liqueur. If the syrup has evaporated slightly, add enough water to equal 1 cup syrup. If multiplying this base for a larger quantity, add water to equal the appropriate amount.