Hawaiian Hamburgers With Grilled Pineapple
Redsie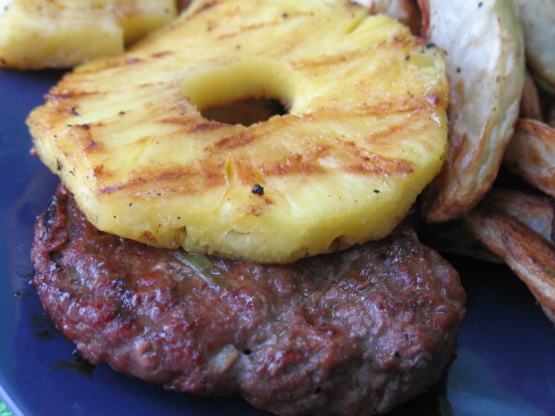 Plan ahead the shaped uncooked burger patties need to marinate for a minimum of 6 hours to blend the flavors before grilling. If possible use fresh pineapple rings for this about 1/2-inch thick or a little larger. If you prefer a little kick then add in a small amount of cayenne pepper --- You can also use half ground pork and beef --- you will LOVE these burgers!

MMMMMMMMMMMMMMM. Wow these are incredible. I did not have 6 hours to let them marinate but they were still great. I cant wait to try it again and let the meat marinate for the full time.

We added a drizzle of teriaki sauce to the burgers and toasted the buns on the grill.
In a large bowl whisk/mix the first six ingredients together until well blended.
Add in the ground beef with garlic, green onions, black pepper and salt; mix to combine.
Shape the ground beef into 7-8 patties (about 1-inch thick).
Place the shaped patties on a baking sheet; cover with plastic wrap and refrigerate for about 6 hours.
Grill the burgers over medium-high heat, brushing with soy sauce while grilling.
Grill for about 6 minutes per side.
The last 4 minutes or grilling place the pineapple slices on the grill; lightly brown on both sides (about 2 minutes per side).
Place a lettuce leaf on each crusty bun.
Top with a grilled burger and then a slice of grilled pineapple.
Delicious!