Ashley Cuoco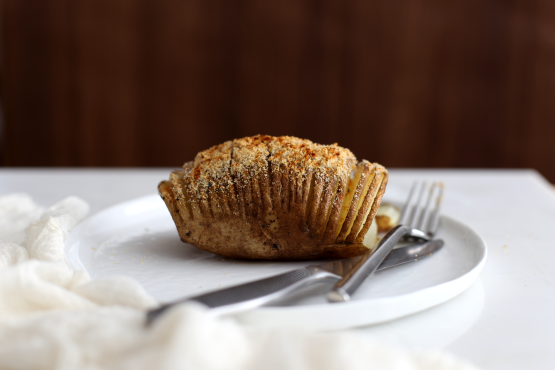 These are so easy to make and go with just about anything. It's a great change to the usual baked potato. You can use a different kind of cheese if you like. Hope you enjoy.

YUM! These were good; I'll be sure to fix them this winter. I used a wooden spoon, sitting right in front of the potato, while slicing, to preserve the bottom, without slicing through. I sprinkled with buttered panko and fresh grated parmesan, as it is what I had on hand. We enjoyed the crunch from the bread crumbs, and I *may* add some crumbled, crispy bacon next time! :D Thanks for sharing a great recipe, ~Nimz~!
Cut potatoes into 1/8 inch slices, cutting only 3/4 through.
Place cut side up in greased baking dish.
Brush with butter.
Sprinkle with salt and pepper.
Bake in 375° oven for 45 to 50 minutes, brushing with butter once or twice .
Mix cheese and bread crumbs.
When potatoes start to spread, sprinkle with cheese and bread crumbs and then sprinkle with paprika. Bake until tender, 20 to 30 minutes.