Hass Avocado Sunrise Omelet
Rita1652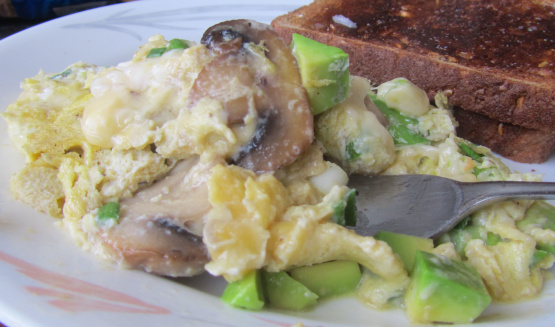 Avocados add such flavor and color to a meal. This is yummy. Adopted from the Haas Avocado Board. Enjoy!

I feel selfish & indulgent, but can that be our little secret? I made early morning coffee & spent time w/DH while he ate his cereal & toast b4 he left for work. Then I went straight to my kitchen & made a single serving of this omelette just for me! I even added bacon! Now how indulgent is that? This recipe was a sure-fire winner! How could it not be when you have avocado, mushrooms, cheese, bacon & an appetite? Great recipe, Sharon! Thx for sharing it w/us.
Saute mushroom about 5 minutes, till cooked. Place in small bowl.
Beat eggs with fork until light and lemon colored.
Stir in green onion, mushrooms, avocado and cheese.
Add salt and pepper to taste.
Pour egg mixture into oiled 12" skillet; cook until bottom of omelet is set, 3-5 minutes.
Flip omelet over in pan; continue to cook until set.
Cut into pie-shaped wedges and serve.