Hash Browns Replacement - Vegetables
Debbwl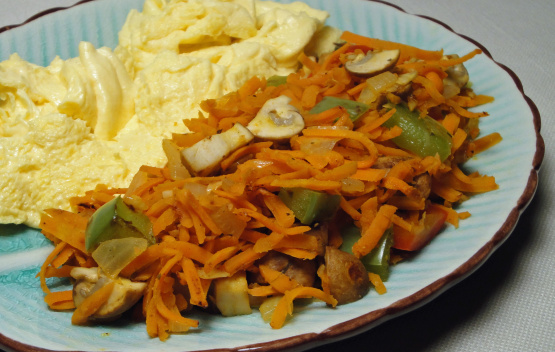 I love hashbrowns so I came up with a replacement and I found I like this also

Top Review by Debbwl
Yummy yes! Hash Browns no! We loved the flavor of this quick healthy dish and it made a delightful change of pace that we will be enjoying again, but in no way reminded us of hash browns. I made using 2 good size carrots, 6 little mushrooms, for step 4 in place of Mrs. Dash used Salt Free Creole Seasoning Recipe 456289 by Rev Dr J, and also did step 5 add 1/4 of both a red and green bell pepper. I will be making this exactly the same way next time, thanks for the tasty post.
Spray non stick skillet with non-fat cooking spray (liberally).
Over medium high heat add all ingrediants and cook to desired doneness.
some option ideas:.
add Mrs. Dash for flavor.
Red and/or green bell peppers can also be used.