JustJanS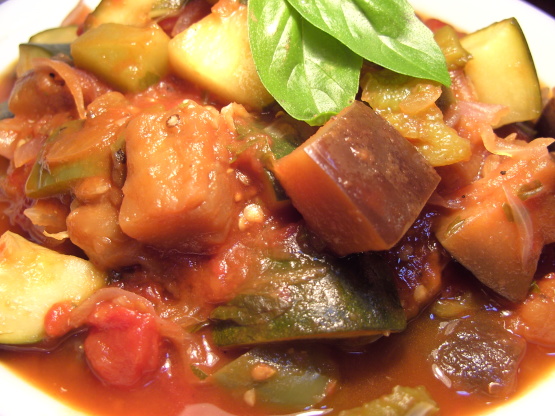 Yes, I know there are already many ratatouille recipes out there. This is my version, I happen to love it. Try it if you like :) This came from a "Vegetarian Times" magazine, October 1999 issue.

This is just what I was looking for! I did change a few things though. I used fresh tomatoes that I peeled and I added ingredients in stages. I browned the eggplant and removed it and then caramelized the onions and added the peppers and garlic in and cooked for a few minutes. I added the tomatoes and zucchini and cooked for a couple of minutes and added in the eggplant and cooked for about 7 more minutes
Place eggplant cubes in a colander in sink.
Sprinkle with 1 teaspoon salt and toss to mix.
Let stand 5 minutes, then rinse under cold running water.
Drain well.
Pat dry with paper towels.
In non-stick Dutch oven or large, wide saucepan, heat oil over medium-high heat.
Add eggplant to cook, stirring occasionally, until golden at edges and beginning to soften, 6-7 minutes.
Add onions, bell pepper, and garlic.
Cook, stirring occasionally, until lightly golden and beginning to soften, about 5 minutes.
Add zucchini and cook 5 minutes, stirring occasionally.
Stir in tomatoes, 1/2 cup of water, pepper, and remaining 1/4 teaspoon salt.
Bring to a boil.
Reduce heat to medium-low and simmer briskly until vegetables are tender and sauce has thickened slightly - about 7 minutes.
Remove from heat and stir in basil.
Serve hot or at room temperature.