A quick and spicy dip. To strain the youghurt push through a fine sieve.
225 g thick and creamy plain yogurt, strained
3 -4 tablespoons harissa (depending on taste)
1⁄4 cup coriander, finely chopped
1⁄4 cup of fresh mint, finely chopped
Directions
Spoon the yogurt into a bowl.
beat in as much harissa as you like.
Stir in most of the coriander and mint, and season if you like.
Tip into a serving bowl.
garnish with the rest of the herbs and serve.
Reviews
Most Helpful
My harissa will blow your socks off, so I used 2 TEASPOONS of harissa and added 1 tablespoon of honey. Still hot but with a nice flavor.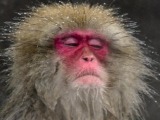 Loved this dip, made it to go with Moroccan Cigars and it was lovely, great flavours. Thank you!