Hand to Mouth Chicken Legs
KGCOOK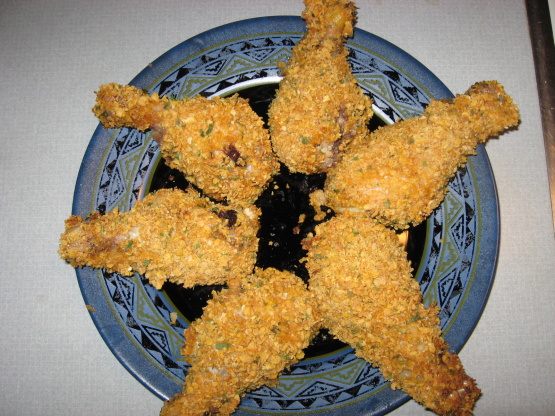 That's the name of a recipe I clipped from a FL newspaper when my kids were younger. It has a marinade (2 hours-overnight)and then coating and you bake it.

Top Review by KGCOOK
Easy to fix and great to eat! Coating is crunchy and tasty! Sister was here and I wanted to try something new. This was it! We really liked it and she is taking the recipe home too! You can taste the lemon and the garlic. Recipe is easy to fix and looks great too. I will be fixin this one again!
Blend all the marinade ingredients and marinate the chicken for 2 hours to overnight. More is better.
Preheat oven to 375 degrees F.
Combine the crust ingredients in a shallow bowl.
Roll the chicken in the mixture and shake off excess crumbs.
Place on a cookie sheet, lightly sprayed with cooking oil and bake for 50-60 minutes until crunchy on the outside and cooked through on the inside (juices run clear and not pink).