Prep 15 mins
Cook 35 mins
I've seen lots of squash casseroles, but none quite like this one. The secret is all in the cheese! This is very rich tasting and so hearty my vegetarian daughter happily eats it as a main course!
1 small vidalia onion, chopped
2 lbs yellow squash, cut in 1/2 inch cubes
salt and pepper
1 cup mayonnaise
1 1⁄2 cups grated gruyere cheese
1 1⁄4 cups crushed butter flavored crackers (I use Ritz)
Directions
Cook the onions until lightly brown.
Add the squash, seasoning with salt and pepper to taste and cook until tender, about 8 minutes.
Remove from heat and stir in mayo, 1 cup of the cheese, and 1 cup of the crumbled crackers.
Pour into a 1 and 1/2 quart baking dish and sprinkle with remaining cheese, then remaining crackers.
Bake for 25 minutes at 350 degrees.
Reviews
Most Helpful
Awesome! It's amazing how much better gruyere makes a squash casserole over the usual cheddar cheese. This is just over five ingredients and that makes it quick and easy to make. I used reduced fat mayo and reduced fat crackers. It was still cheesy and delicious. Thanx for sharing!

Delicious! Imade the recipe as directed. The gruyere was the star of this dish. I will make this again.

We love baked squash dishes and this one did not disappoint. The nutty flavor of the gruyere cheese really makes this dish. Will definitely make this again! Made for Spring PAC, April, 2012.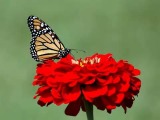 Thanksgiving Tips & Ideas >