Grune Bohnen Mit Dill (Green Beans With Dill)
Derf2440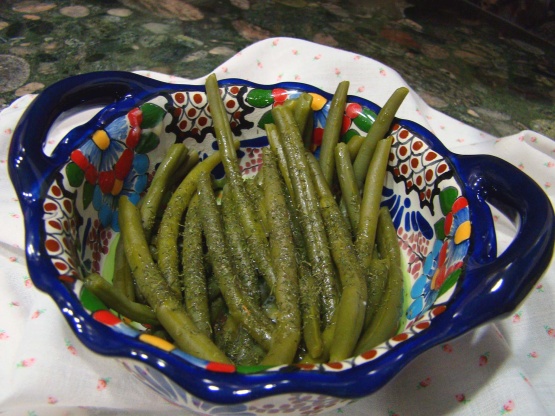 A tasty way with green beans

Good 'ole green beans, always a favourite and nice with dill. I happened to have some beef broth to use up, it worked very well in place of the bouillon cube. I used some fresh green beans. We loved the dill flavour, I think it would be worth trying with fresh dill next time.
10

ounces frozen cut green beans
1⁄3 cup water, boiling

2

tablespoons butter
Place green beans in saucepan with boiling water and bouillon cubes.
Cover; bring to a boil.
Separate beans with a fork,.
reduce heat and simmer for 10 minutes or until tender.
Drain.
Stir in butter and put into serving dishes sprinkle with dill weed serve.
(Add dill to your liking).