Gruesome Green Goblin Punch - Fun for Halloween!
Um Safia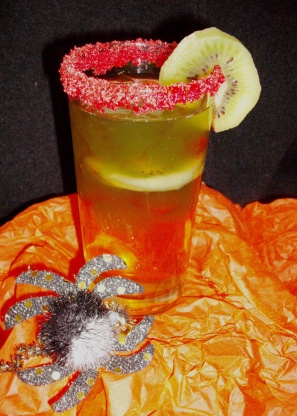 This is a great recipe for Halloween or a kids party. It is really simple to put together & looks fab. Time to make doesn't include time to set.
Punch

6

cups chilled apple juice

6

cups chilled ginger ale

4

cups prepared green Jell-O

To decorate

colored sugar crystals (orange, black & red work well)
gummy worms
kiwi, slices (optional)
Starting with your cups or glasses, dip the rims onto a plate covered in a little corn syrup. Once dipped in the syrup, let excess drip off & dip into a bowl of coloured sugar crystals (these are easy to make at home - take a zip loc style bag, place a few tbsp of granulated sugar & a couple of drops of food colouring into the bag. Shake & rub the bag until the colour is evenly distributed - use more colouring for a stronger coloured sugar).
Place the sugar rimmed cups / glasses on some parchment paper & place in upside down in the fridfe to set.
Carfelly chop or mash your jello until you have smallish sized chunks.
Mix your punch together. You can sugar the rim of the punch bowl using the above method but paintig the syrup on with an artists paintbrush!
Add the jello to the punch & throw in a few gummy worms.