Grilled Tomatoes - Cheese Topped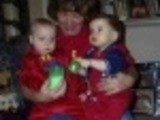 This is a very quick and tasty way to fix some of the tomatoes that are coming in from your tomato vines. Nice side dish - and a change from a regular salad.
Directions
Halve tomatoes, and sprinkle cut surfaces with salt and freshly ground pepper.
Mix bread crumbs, cheese, and butter; sprinkle on top of tomatoes, trimming with snipped parsley.
Heat tomatoes, cut side up, on griddle about 5 minutes, or until heated through.
Most Helpful
I scaled this down for one person. I broiled it first, then put it in a skillet and cooked the bottom a little. I used sharp cheddar cheese and Italian bread crumbs. Delicious! Thanks Trisha!

Great tasty side dish which is quick too! The small change I was keeping half of the parsley until serving. Next time I will probably add some crushed garlic to the crumb mixture.

Made some changes, but that's what cooking is all about. Used Italian bread crumbs and parmesan cheese. Broiled in 400 oven. Hot tomatoes with crunchy, salty topping. YUMMY!