Grilled Mexican-Style Corn
Ms B.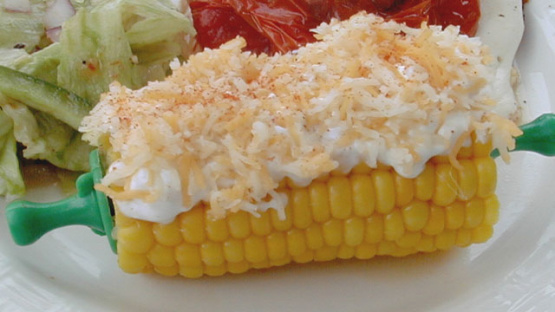 This is the best corn on the cob you will ever have. You can also cook it in the kitchen if grilling is not possible. My family eats this all summer long. This recipe came from Martha Stewart Living.
Set out the sour cream, cheese, and corn, and let each person fix his own.
Heat grill to medium high.
Place 1 cup sour cream or creme fraiche in a small bowl and sprinkle with 1/8 teaspoon cayenne pepper; set aside.
Grate 2 cups cheese into a small bowl; set aside.
Grill corn until tender, about 15 minutes, turn frequently.
Remove from grill; when cool enough to handle, pull back husks and remove silk.
Brush corn with sour cream and roll in cheese.