Axe1678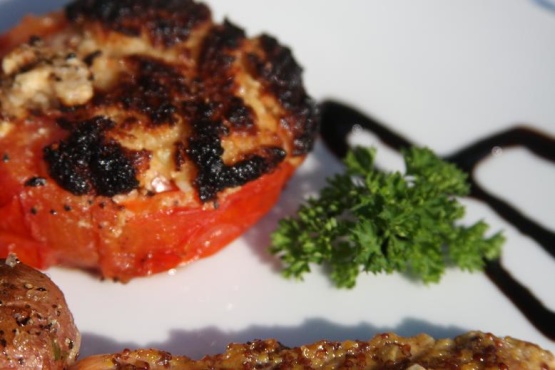 Just pop them on the grill along side whatever else you are cooking!

I loved the taste of this coming off the grille yesterday. However trying to top the mayo mixture on the tomato didn't work very well. It kept sliding off. *s* So we just sliced the tomatos up and mixed them in with the mixture. Tasted good. Thanks for the recipe.
Preheat grill to high.
Layer 2 sheets (12x12-inches each) of foil to form double thickness.
Place foil sheets on cookie sheet, spray foil with nonstick cooking spray and set aside.
Combine mayonnaise, Parmesan cheese, bread crumbs, garlic and lemon juice.
Season the cut-side of each tomato half with salt and pepper then top with the mayonnaise mixture.
Arrange tomatoes on foil sheets and slide foil sheets onto grill.
Grill 12 to 15 minutes in covered grill or until tops of tomatoes are browned.
Slide foil sheets from grill onto cookie sheet.