Grilled Bruschetta Chicken
R.Lynn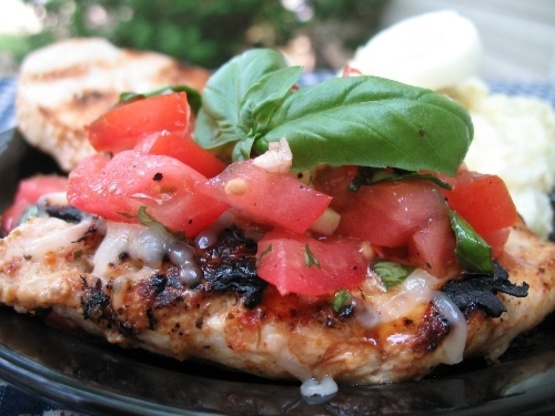 This comes from the Kraft Food & Family magazine. Perfect for summer but for that matter, if you have an indoor grill pan, do this one all year around.

Made a stove-top version ... skipped the salad dressing marinade and sauteed the chicken breasts with olive oil & garlic while seasoning with salt, pepper and Italian spices, adding a little chicken stock at the end to keep it moist. Added 1 T. balsamic vinegar and more garlic to the tomato/basil mixture and also subbed parmesan for mozzarella because that's what we had. Topped the sauteed chicken with tomatoes, covered and cooked for 10 minutes. Then took out the chicken, sliced and tossed it back in the pan with the tomato mix, coating everything with "bruschetta" sauce. It was tasty and healthy. Next time we'll try it on the grill!
Place large sheet of foil over half of grill grate. Pour 2 T of the dressing over chicken in resealable plastic bag and seal. Turn bag over several times to evenly coat chicken with dressing. Refrigerate 10 minutes to marinate. Remove chicken from marinade and discard marinade bag.
Grill chicken on uncovered side for 6 minutes. Meanwhile, combine tomatoes, cheese, basil and remaining 2 T of dressing.
Turn chicken over and place cooked side up on foil on grill. Top evenly with the tomato mixture. Close lid. Grill an additional 8 minutes until chicken is done.