Grilled Blue Cheese-Crusted Tomatoes
MsPia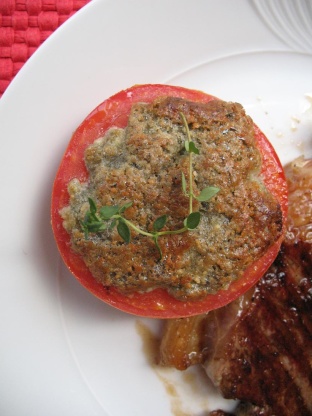 From Bon Appetit, July 2008. This is a simple and easy grilled dish that would be perfect with steak.
Prepare 1 side of barbecue on high heat, leaving opposite side unlit if gas grill or without coals if charcoal grill. Mix breadcrumbs and olive oil in small bowl, mashing to coat. Cut top 1/4 inch from each tomato. Sprinkle tomatoes with salt and pepper. Top each with 1 Tablespoon blue cheese. Sprinkle with breadcrumb mixture.
Arrange tomatoes (topping side up) on unlit side of grill. Cover grill and cook tomatoes until slightly soft and cheese melts, about 13 minutes. Serve immediately.