Grilled Asparagus With Lemon and Garlic
Bergy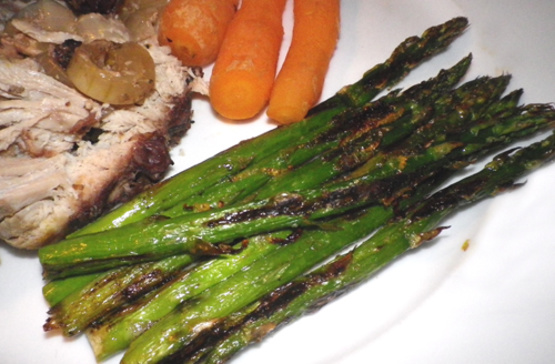 This recipe is courtesy of Paula Deen and Food Network. There is NO butter in this recipe; sorry Paula Deen fans. This is just a simple, easy way to enjoy some yummy asparagus.
Break off woody ends of asparagus.
In a small bowl, combine olive oil, garlic, lemon zest and paprika and mix together well with a fork.
Lay the asparagus side by side and pierce with skewers to form a raft.
If you use bamboo skewers, don't forget to soak them for 30 minutes before using, so they don't catch fire.
Place asparagus rafts on the grill and brush with the olive oil mixture.
Cook to your desired tenderness (it takes almost no time at all), and season with salt and pepper.