Green & Yellow Squash 'linguini' W/ Shrimp Scampi

Super light and deliciously satisfying, this creation totally hit the spot on a night I was craving pasta! The best part is? It's so light, feel free to go back for seconds, maybe even thirds! And Never fear, that "fat" is healthy fat (Monounsaturated fat aka MUFA) from the olive oil ;) The kind that's good for you!
Directions
Rinse and pat dry all zucchini and squash. Remove the ends. Over a large bowl, with a vegetable peeler, peel all zucchini and squash lengthwise into linguini/pappardelle-like strips. Continue to peel until you see seeds. Discard seeded cores of zucchini and squash.
Finely mince the garlic cloves. Heat a large skillet over medium-high heat. Add 1 tablespoon of the olive oil. Once oil is heated, add the "linguini". Sauté for about 1 minute. Add half the minced garlic, generous amounts of salt and pepper, and sauté for 1 more minute, gently stirring/folding with tongs. Remove "linguini" from heat and reserve.
To the same skillet, add the remaining 1 tablespoon of olive oil and heat. Add the remaining garlic and stir; do not burn garlic. When garlic is lightly toasted, add the shrimp, cooking for only 1 to 2 minutes, stirring occasionally. Add the white wine and let simmer for a few seconds.
Before shrimp are completely pink, add the red pepper flakes, parsley, basil and lemon juice. Add the "linguini", more salt and pepper and the grated cheese. Toss to combine, about 1 to 2 minutes. Transfer to a large dish and serve sprinkled with additional grated cheese and lemon wedges.
Reviews
Most Helpful
Outstanding! Great flavor combination, and the noodles are so much better than pasta. This will become a regular for me!

This dish is absolutely amazing! I loved everything about this, including how quick it is to prepare. I made this exactly as directed and would not change a thing. The herbs with the lemon and wine are delicious on the shrimp and so good on top of the squash "pasta". Healthy restaurant-quality meal, delicious and ready in minutes - just can't beat that - thanks for sharing the recipe! Made for the Best of 2012 event, recommended by JackieOhNo!

I cannot begin to tell you how delicious this recipe is! Creating the squash strips did take some time, but the end result was so worth it. I made this exactly as posted and really enjoyed the combination of the lemon, red pepper, and garlic. I used fresh parsley and fresh basil. The squash was super tasty and the shrimp was terrific. Now I wish I had found this recipe sooner when I was inundated with zucchini! I will definitely be making this again!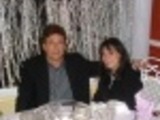 Get Healthy Your Way