katia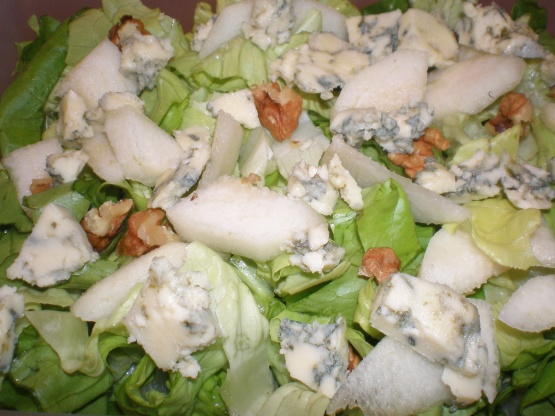 This is a salad that my sister tasted in England. We had to put our minds together to make a salad similar to it. Post this recipe for World Tour 2006.

What a fantastic combination of flavours. I followed the recipe exactly, except that our supply of walnuts disappeared. I used sunflower seeds instead, and they worked beautifully. Katia, you and your sister did a great job recreating this yummy dish. Thanks.
Wash and drain lettuce. Cut the pear in cubes. Mix well the ingredients of the dressing (vinegar-olive oil-mustard-salt-pepper).
Tear the lettuce in a large bowl, using hands, in large pieces. Add the pear.
Add half of the dressing.
Add the stilton, the walnuts and at last pour over the rest of dressing.
Serve quickly.