lazyme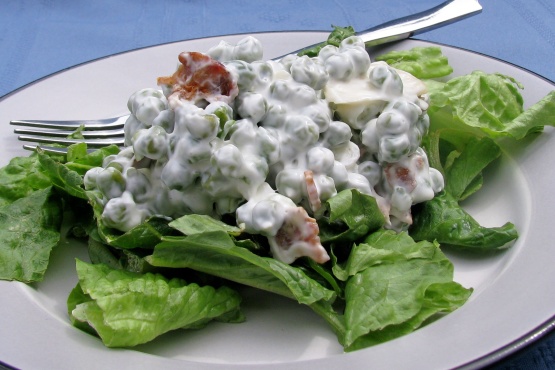 I love peas. This is different from my other recipe I have posted. I prefer to use this one as sort of a filling for a pita for lunch OR for a side dish at a potluck, party or cookout. Make this healthier by using turkey bacon or chopping the bacon first to render out more of the fat. Also, try using low fat mayo and sour cream. I never use fat free of both, but I will use low fat mayo and fat free sour cream to make it even better for me! From southern cooking.

I simply loved it. I just ran hot water over the peas to defrost them so they still had a "pop". I used turkey bacon cooked in the microwave, fat free sour cream, low fat mayo and stopped with the salt and pepper. Just plain yum and healthy, made in 10 mins too, whats not to love!
Cook peas until barely tender; drain well and chill. Combine all ingredients and refrigerate until ready to serve.
Serve on lettuce.
Use as a pita filling
Serve as a side dish
Add a cup of cooked pasta and 1 tsp more of mayo and sour cream toss together for pasta salad.
OPTION: Try this warm too! Just drain the peas and add the rest and cook over low heat on the stove until the cheese is melty and everything is combined.