loof751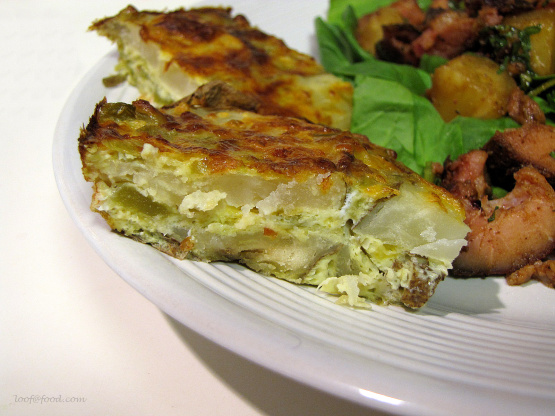 This recipe is taken from the DeVoe Mansion Bed & Breakfast. The combination of potato along with mild green chilies and Monterey Jack cheese sounds delish!
Preheat oven to 375 degrees. Boil whole potatoes until soft (but still firm); then slice into 1/4 inch slices. In a skillet, saute onion and garlic in olive oil until soft. Remove from heat and add green chilies.
In a large bowl, beat eggs; stir in veggies, seasonings and cheeses (reserve 1/4 cup of each cheese for topping). Layer 1/2 of the potatoes in bottom of a greased 9 inch pie pan. Cover potatoes with half of egg mixture; then add another layer of potatoes. Top potato slices with remaining egg mixture and then add remaining cheese. Bake 30-35 minutes or until set and golden brown. Serve topped with sour cream.