Greek Roast Leg of Lamb with Potatoes
awalde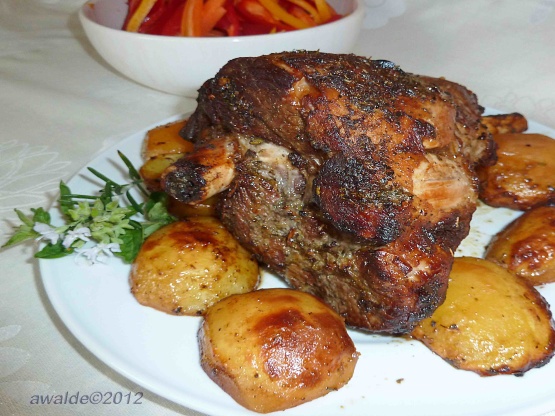 A traditional greek roast for a Sunday dinner.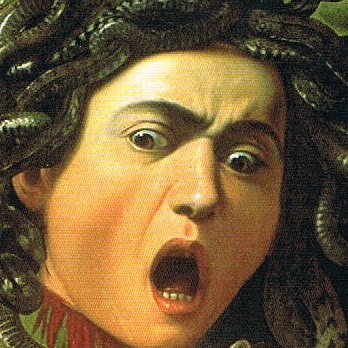 Evelyn, I wanted to thank you for posting all your recipes (especially the ones I'm about to rate.) You have become a staple in my kitchen!! I made this lamb for the Friday after Thanksgiving. I have a friend who raises grass-fed, non-GMO, no hormone, etc etc lamb. So I bought 1/2 a lamb. I knew for any lamb recipe, Evelyn is my go-to lady!! This was fantastic. I followed the recipe exactly, my leg roast may not have been quite 6 lbs. I used fresh herbs. I let it marinate longer than overnight. I served it with Recipe #174221 and Recipe #71074 I also used tiny potatoes. It was so lovely!! My Father-in-law RAVED about how fantastic the dinner was. Thank you so much, Evelyn!!
Wash lamb well and pat dry.
Finely chop 8 cloves of garlic and place in a glass dish or sturdy plastic bag large enough to hold the lamb.
Stir in 4 tsps each of oregano and rosemary, 1/4 cup of the oil, the wine, zest and lemon juice.
Place lamb in marinade, turning to coat well on all sides; cover and refrigerate overnight.
Crush remaining 6 cloves of garlic and stir together with remaining 2 tsps each oregano and rosemary.
Remove lamb from marinade (keep marinade) and pierce in several places with the tip of a sharp knife.
Rub garlic-herb-mustard mixture over lamb, pressing into incisions.
Coat with remaining 2 tbsp of oil and sprinkle with salt and pepper.
Place on a rack in a shallow roasting pan.
Peel potatoes and cut into large wedges or like cottage fries (or if you are using small, new potatoes, leave them whole).
Toss in the marinade kept from the lamb and 2 additional tablespoons of olive oil and pour all of this mixture into your pan, around the lamb.
Roast, uncovered, in 190 degrees C (375 F) oven for 1 ½ hours, turn lamb over to make a crust on the other side, give potatoes a stir and continue to roast for another 45 minutes (total roasting time – 2 hours and 15 minutes).
Greeks do not like to eat lamb anyway but well-done.
My Big Fat Greek Wedding was SO WRONG when they showed the platter of (red-pink<shudder> lamb being passed around).
Do it the way you prefer in terms of timing, but this is the way it would be served here.
Serve with plenty of crusty bread to dip into the pan juices, a large, leafy salad, and lots and lots of red wine!