diner524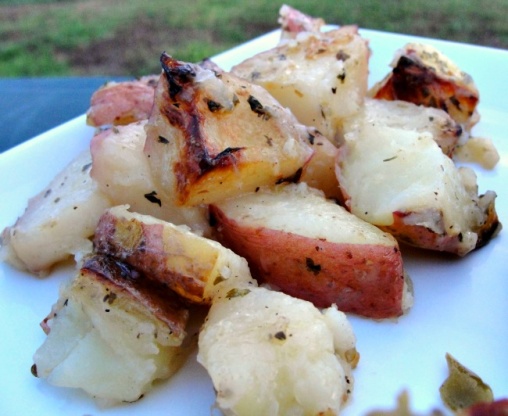 From Papadakis Taverna - San Pedro, California.
Fabulous potatoes!!! These were a great side dish to our spicy pork tenderloin and green beans!! I made 1/2 of the recipe and had to sub red skinned potatoes. I got started on dinner a little later then usual, so to speed things up, I pre-cooked the potatoes in the microwave, dotted them with some butter and salt/pepper, on high for about 5 minutes. This cut the baking time in half for me. I then followed the rest of the recipe as it is stated. They had a nice roasted crust on the top and very tender taters underneath with a wonderful lemon flavor!! Thanks for sharing the recipe. Made for ZWT 9.
Preheat the oven to 400°F.
In a large baking pan place the peeled and quartered potatoes (add enough potatoes so that they fill the pan up, 3/4-inch from the top).
Sprinkle on the onions, garlic, salt, pepper, oregano, basil, lemon juice, and vegetable oil.
Add enough water so that the potatoes are just covered.
Stir the ingredients together very thoroughly so that everything is well mixed.
Bake the potato mixture for 45 minutes.
Carefully stir the ingredients together so that they are re-mixed.
Bake the potatoes for another 45 minutes, or until they are tender.
Remove the potatoes with a slotted spoon.