Hadice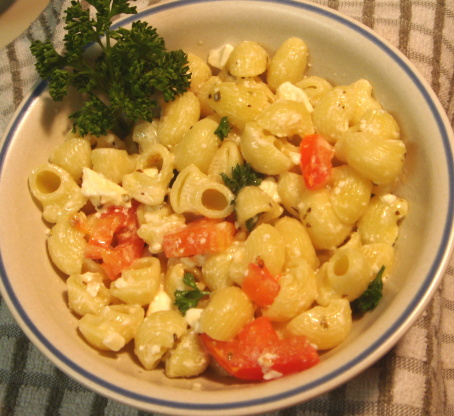 This is a quick pasta dish to make. If you have leftovers, just add a little wine vinegar and have it for lunch.

This is an easy, yet elegant dish. The feta cheese and garlic make a great combination with the cherry tomatoes and olives. A great meal for those hot days, like here in Florida, when a heavy sauce is just too much. As far as olives, I used ripe, black ones. The leftovers were great served cold!
Cook pasta for 6- 8 minutes or until tender but firm.
Drain and return to pot, reserving 1/2 cup pasta water.
Meanwhile, heat oil in large skillet; cook garlic and oregano for about 30 seconds or just until garlic starts to brown.
Add garlic mixture to pasta along with feta, tomatoes, parsley and olives; toss to coat, adding enough of the reserved pasta water to moisten.