Grapefruit Custard Tart With Chocolate-Pecan Crust
ChefLee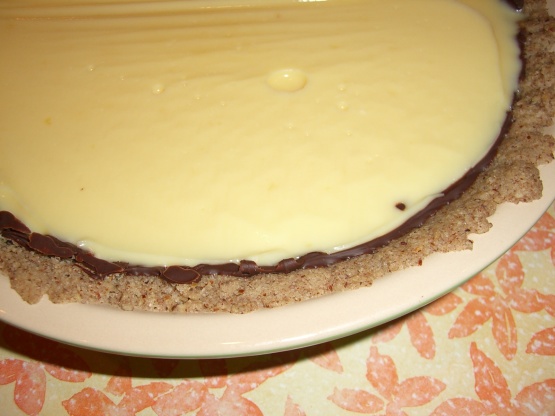 From the Inn at Little Washington. Note: the 2 t. unflavored gelatin creates a nice firm custard. If you prefer a looser custard, use the lesser amount of gelatin.

Absolutely great tart, but then I'm a big fan of both citrus & chocolate, so when I can serve something like this, it's well worth the making! I did include the extra gelatin in this wonderful keeper of a recipe! Thanks for sharing it! [Tagged & made in Please Review My Recipe]
Crust:.
In a small bowl, combine the pecans, sugar and melted butter.
Pat into a 9" glass pie dish. Chill for 30 minutes.
Preheat oven to 375°F.
Bake for 10 minutes. Set aside to cool to room temperature.
Spread the melted chocolate over the inside of the crust and set aside.
Custard Filling:.
In a 2-quart saucepan, melt the butter over medium heat. Add the sugar and stir until dissolved.
Add the cream, 1/2 cup grapefruit juice, the orange juice, eggs and grapefruit zest.
Sprinkle the gelatin over the remaining grapefruit juice and set aside.
Cook the cream-citrus mixture over low heat, stirring constantly, until it thickens and coats the back of a spoon. Do not allow it to boil.
Add the gelatin mixture and stir until dissolved.
Cool to room temperature.
Pour custard into the chocolate-coated crust and refrigerate until set, about 2 hours.
Serve with whipped cream.