Boomette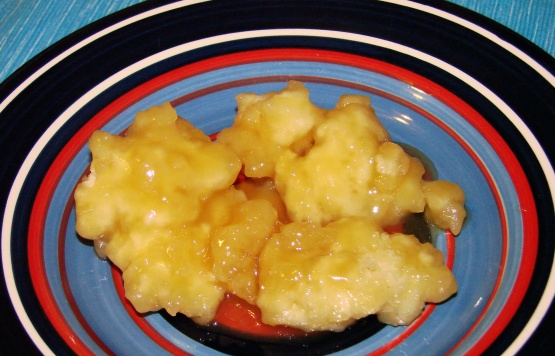 This is a very old Canadian recipe that was handed down from one generation to the next. It is still as good today as it was then.
Grandp?res are very popular in Quebec. We have sugar shacks in my family and it's a recipe we often do during this special time of the year. Your recipe is great. The grandperes had a great texture. You didn't mention to lower the heat while boiling. We had to because it was boiling too much. And the dough has to cook slowly to have a nice texture. And while cooking the grandperes, never remove the cover as the steam is very important. Thanks Elmotoo :) Made for the Australian recipe swap for March 2012
Sift together flour, baking powder and salt.
Cut in butter with pastry blender. Add milk and mix well.
Combine maple syrup with water in a saucepan and bring to a boil.
Drop the dough in the hot maple syrup by the tablespoonful. Cover and cook 25 minutes.
Serve very hot, pouring over them the syrup in which they were cooked.