Grandpa Roy's Fresh Peach Cobbler
Grandpa Roy was a very wonderful man. So kind to us kids and so gentle with animals. This is one of his favorite desserts.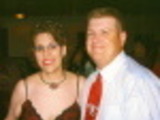 This was a very good cobbler recipe! Reminds me of peach pie....with a double crust. We used butter flavor Crisco instead of regular Crisco....gave it a better flavor. Also, we added cinnamon and nutmeg to the peaches. Overall, this is a fabulous and easy recipe!!!! Thanks for sharing.
Sift flour before measuring; spoon lightly into measuring cup and level without shaking or packing down.
Combine flour and salt in a mixing bowl.
With a pastry blender cut in Crisco until uniform; mixture should be fairly coarse.
Sprinkle with cold water, a little at a time; toss with a fork. Work dough into a firm ball with your hands.
Heat oven to 400 degrees. Mix sugar and cornstarch and gradually stir in water.
Bring to a boil and boil 1 minute, stirring constantly. Add fruit and juices. Set aside.
Press ½ of the dough into a flat oval with smooth edges and roll out ½ of pie crust dough between 2 sheets of wax paper that has been cut a little larger than the baking dish.
Place in 9 X 13" baking dish and prick with a fork. Bake for about 8 to10 minutes.
Do not brown. Pour fruit mixture over crust and spread evenly. Dot with butter and sprinkle with cinnamon. Roll remaining dough the same as above and carefully place over fruit. Cut slits in dough and sprinkle with sugar and cinnamon. Bake until top crust is lightly browned and cobbler is bubbly ( about 20 min).