Grandma's Simple Roast Chicken
Derf2440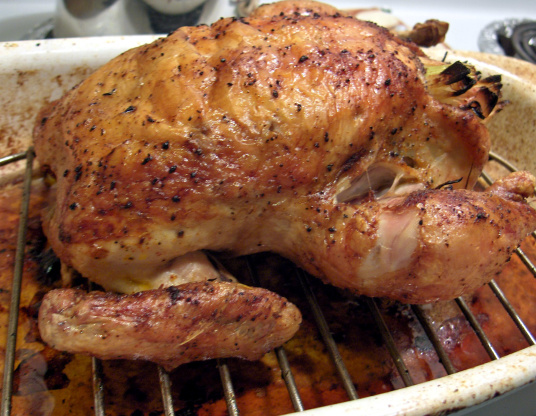 This is actually from Cooking Light, not my grandma, but it is moist and delicious and quite easy. If your chicken is on the small side, don't use quite as many veggies--they won't all fit. :)
Preheat oven to 400 degrees.
Remove and discard insides of chicken. Rinse chicken with cold water and pat dry. Trim any excess fat.
Combine salt, pepper, and paprika in a small bowl and sprinkle over chicken and into the cavity.
Place vegetables and bay leaf in body cavity. Tie ends of legs together with a cord (I have never done this and it still turns out fine). Lift wing tips up and over back; tuck under chicken.
Place chicken, breast side up, on a broiler pan (or on a rack inside another pan) coated with cooking spray.
Bake at 400 degrees for one hour or until meat thermometer inserted into thigh registers 180 degrees.
Cover loosely with foil for about 10 minutes.
Remove vegetables from inside chicken and throw them away.