Grandma Geldner's Apfel Kuchen (Apple Kuchen)
supat609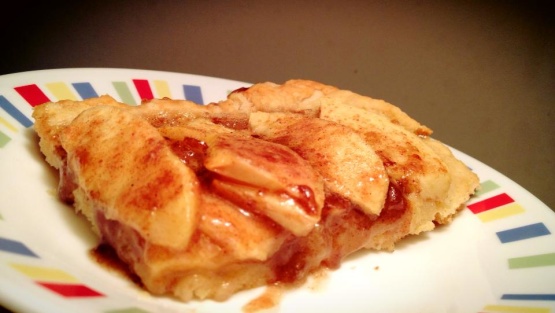 This comes from a rich German heritage. Grandma always made the best "apfel" kuchen. Her recipes were always simple, but tasted great!

I have to post a review in response to a former review; to any one who has been here longer than June of this year, 2010, they will know that the changeover from RecipeZaar to Food.com threw up numerous glitches, one of them being alterations in ingredients and their measurements, as well as the plural being used instead of the singular in the ingredients list! So, a low review based on the faults of the software on this site and NOT based on the taste of the recipe, is a little unfair! The order of the recipe ingredients also changed as well as basic punctuation - but NOT the taste of the delicious recipes that are posted here. I will be making this myself over the next week and will report back with my TASTE findings. I had to mention this! Thanks! FT:-)
Preheat oven to 350°F.
Mix 1 1/4 cup flour, baking powder, 2 tsp sugar, and salt and sift once.
Cut 1/2 cup butter into dry mix with a pastry blender to pea size.
In a small bowl, beat egg with 2 T milk and add to dry mix.
Mix thoroughly and pat dough into a greased or oiled 9x13-inch baking dish.
Pare and core apples.
Cut into thin wedge slices and place on dough in rows until covered. We would cover the thin end of one apple with the thick end of the other.
Dot apples with 2 T butter and mix 3/4 cup sugar, 1 1/2 Tbs flour and cinnamon together.
Spread dry topping over dotted apples, and bake in oven for 30-45 minutes, until golden brown.