Grandma Brown's Gingerbread
Stacky5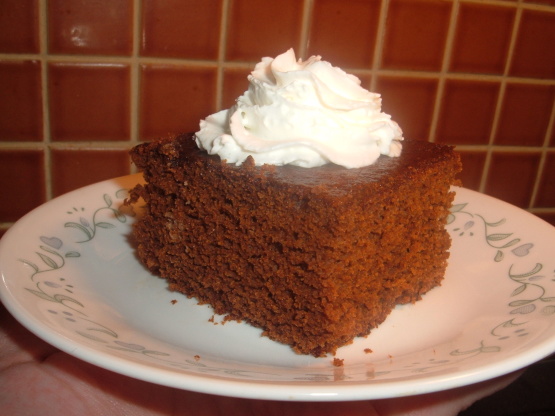 Grandma Brown was my great-grandmother on my father's side. I never got to meet her, but I remember my grandma making her gingerbread. Last Christmas, I made a bunch of it up and gave it to my family. Now, I give it to you. Enjoy! Due to feedback, I am adding another comment here...old-fashioned gingerbread is a dense cake. If that is not what you expect from gingerbread, then this recipe is probably not for you.

Top Review by PKG178
Oh yummy! This was delicious! I upped the ginger to 2 teaspoons (this household LOVES ginger) so it has a little bit of a bite in the after taste. This is soft and moist. I divided the batter into cupcake pans and it made about 15 cupcakes and baked it for about 20-22 minutes (rotating halfway through). I also beat the batter for 3-4 minutes until it thickened slightly after I added the eggs. Thanks for sharing!
Grease well either a 9 x 13 baking pan or two 9-inch round pans.
Cut a piece of parchment or waxed paper to fit bottom of pan.
Cream sugar and shortening together.
Mix dry ingredients together.
Add the molasses and boiling water to the sugar and shortening mixture, then slowly add dry ingredients to this mixture; mixing well between each addition.
Beat eggs well.
Add into mixture last.
Pour into prepared pan (s).
Bake at 350° or until toothpick inserted in center comes out clean (it should take 20 minutes, but can take as long as 35 minutes).
Best when served warm with fresh whipped cream, but delicious any time.