Rita1652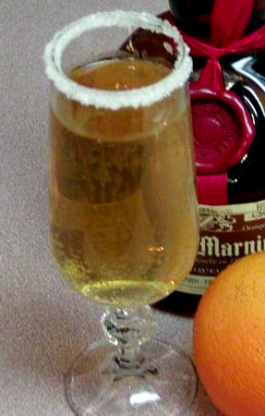 A great way to end an old year and Bring in the New Year!!!! Or any Celebration! Cheers!!!!!

Ok - this isn't just for New Years either. This is such a creative idea for any celebration and it takes NO EFFORT and looks like something Martha Stewart would come with. I did not use the sugar with vanilla - I used her other recipe for flavours sugars. Must try it next time you have gathering.
vanilla sugar (sugar with vanilla bean set in a closed jar Flavored Sugar Flavored Sugar or Splenda)
orange, sliced into thin wedges (Dipped into Grand Marnier)
chilled champagne
Dip rim of Champange glasses into Grand Marnier then into sugar.
Let set.
Pour in glasses champagne.
Garnish with Orange Slices.
Drink And be Merry!
Happy New Year!