Gramma's Old-Fashioned Cinnamon Sweet Rolls
Debi9400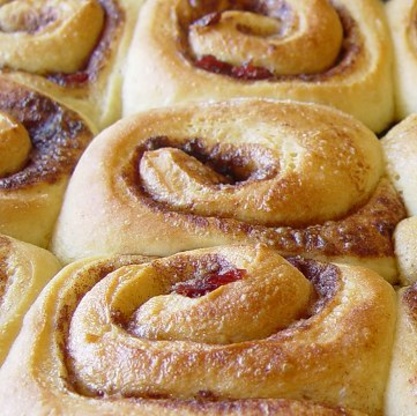 Light, flakey dough surrounds the brown sugar-cinnamon-butter filling (with optional raisins or nuts); two perfect pans of exquisite breakfast fare. Serve with some pork links, glass of juice or milk, and you've got a down-home breakfast. My German gramma made these EVERY time our family visited...and she cooked 'em in her wood-burning cook-stove, too. Our 4-H club makes these for a concession stand fund-raiser and we sell-out EVERY year! Don't be put-off by the LENGTHY set of directions---they're written for the uninitiated (non-bread-makers) among us. I really WANT you to have fun making these, so I told you EVERYTHING you'll EVER want to know in how-to-make sweet rolls.

This recipe is a good one for beginners. Basic cinnamon rolls but the reviews are exaggerated. They come out fine, but a bit bland. Good, easy, effortless recipe. Old-fashioned? not really
In a liquid measuring cup, heat milk/water to "wrist-warm" (do NOT boil; just warm).
Add yeast and 2 tablespoons of the sugar (you'll use the rest in the next step). Stir the yeast and sugar; let this "work" for about 5 or 10 minutes. You should have some bubbly, frothy stuff in the cup when you return. (If not--your yeast is no good, dump it out and get better yeast.).
Pour yeast-milk into mixing bowl, and add remaining sugar, butter, eggs, salt and 1 cup of the flour. Using beater, mix this mess for about a minute.
Switch to the paddle (flat beater) or a dough hook, and add remaining flour one cup-at-a-time. The dough will form a ball, and feel slightly sticky. You may not need the entire 5 1/2 cups (depends on humidity, too).
Fill medium glass bowl with hottest tap water. If your oven can be adjusted to 100 degrees, set it to 100 degrees. Also, if your oven has a light, turn it on; place the hot water on the bottom of the oven. Close the door.
Grease a large, glass bowl. Remove dough from mixing bowl to a floured table/counter-top; knead for 1 minute; form into a ball and place in greased bowl, turning to get grease on all sides. Cover bowl loosely with a sheet of plastic wrap.
Turn off 100 degree oven, place bowl of dough into oven; close the door. Set the timer for 1 hour.
Clean up the mess BUT leave floured counter-top AS IS.
At the end of one hour the dough should've risen to about double the size. If not, let it go for another 15 minutes (set the timer--it's easy to forget---out of sight, out of mind!).
Gather filling ingredients: 1/4 cup of melted butter; cinnamon; brown sugar; raisins and/or chopped nuts (optional).
Punch down the down; remove from bowl; with a large butcher knife, cut dough into two equal parts. Set one aside (cover with plastic wrap).
Grease two 13x9-inch pans with BUTTER (no substitutes are allowed -- this is GRAMMA's recipe). :-) humor me, okay?.
On floured counter-top, lay dough and with a rolling pin, shape & roll into large rectangle, oh about 8 x 16 inches or a bit larger, keep thickness consistent throughout.
Pour HALF of the melted butter over this, and spread with a pastry brush, right out to the edges. Sprinkle generously with cinnamon (like 1-2 tablespoons), then a handful of brown sugar, spreading it evenly with fingers; right to the edges!
Sprinkle some raisins and chopped nuts -- if using. Keep these closer to the long side closest to you.
HERE's THE HARD PART: Starting at the side closest to you, LOOSELY roll away from you. Loosely is the KEY word. Tuck in any runaway raisins or nuts.
Use that big knife to divide the roll in half in the middle. Then cut each half into SIX equal portions, for a total of 12 rolls.
Starting in the middle of the roll (nicest shaped rolls) and working to the sloppy outside roll piecs, set them along the outside edges of the buttered pan, spacing evenly in the pan. Put the two end rolls in the very center of the pan. Set the cut side DOWN (so the top looks flat-ish). Set this pan on the stove for now.
Repeat with remaining dough; vary the ingredients -- if you skipped raisins or nuts, maybe add some to this pan of rolls.
Check if the water in the oven is still warm, if not dump out and start with fresh hot water. Put plastic wrap on both pans (re-use the other piece), and pop in the warm oven. Set the timer for 45 minutes. Go do something productive---clean the counter-top before all that stuff gets hard! :-D.
When the rolls have risen to the top of the pan (or a smidgen over), remove them from the oven, preheat oven to 350. When it's warm bake them for 20 minutes; tops will be golden brown.
Cool on a rack; then frost with a cream cheese/butter cream frosting (slather it on thick like Gramma does for the grandkids!).
You have JUST entered the Pearly Gates!