Gramma Bonitz's German Potato Salad
twissis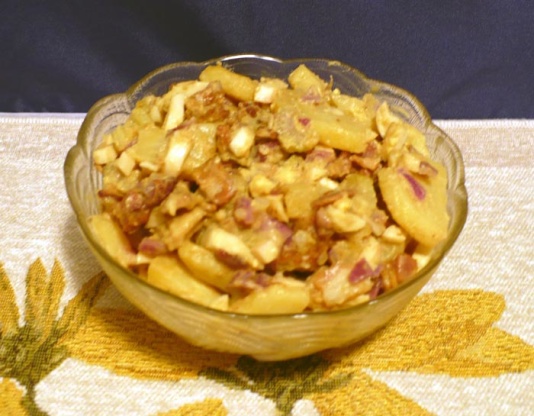 Handed down to my mom, then to me, and I've handed it down to my kids already too. A GREAT potluck dish, kept warm in a crockpot, usually NO leftovers (boo hoo!).

I made half of this recipe the same day I tagged it (12-12) for a dinner I called *Tag Nite in Iceland* . The fare included a mixed green salad w/a tagged dressing recipe, this recipe & 3 other tags (almost like a tapas feast). I occ make what I call *Selfish Tags* & this was 1 of those times. I have always loved classic German potato salad & this recipe takes the genre out of the ordinary, but DH reveres the potato & does not favor the use of vinegar in most dishes. So this was solely for me & I am glad I did not have to share. Like a prior reviewer, I found the balance of vinegar & sugar to be ideal. Using celery + eggs was new to me & I liked the added texture, bulk & flavour they provided. The only downside to this recipe is that I am likely to be more selfish than normal in the future, but I can easily live w/that. Thx for sharing this recipe w/us (me). :-)
Fry the bacon, remove from pan as it gets crisp; set aside; reserve 2 T. bacon fat.
Fry onion and celery in reserved fat until onion is transparent.
While bacon is frying, hard-boil the eggs (bring water to boil; then boil for 4 minutes, then remove from heat, wait 11 minutes [set timer], pour off hot water and cover with COLD water).
AND cook the potatoes in a pot of boiling water until a fork pierces skin easily; pour off water, cool to touch, then peel skins off.
Slice potatoes into 1/4-inch slices (bite-size pieces) in a large serving bowl.
Remove egg shells, then coarsely chop or slice eggs and add to the potatoes.
Thinly slice radishes over the eggs and potatoes; toss lightly; set aside.
Return bacon to skillet with onion and celery pieces.
Add water, vinegar and sugar to the skillet, stirring up any fond; quickly heat to boiling.
Make a paste from the cornstarch and remaining water, add to boiling stuff in the skillet, stirring continuously until sauce thickens (1-2 minutes); remove from heat.
Pour sauce (bacon, onion, etc.) over vegetables in bowl.
Serve while warm or keep warm in a crockpot.
Leftovers should be kept in fridge, warmed to room temp or zapped in the microwave.