loof751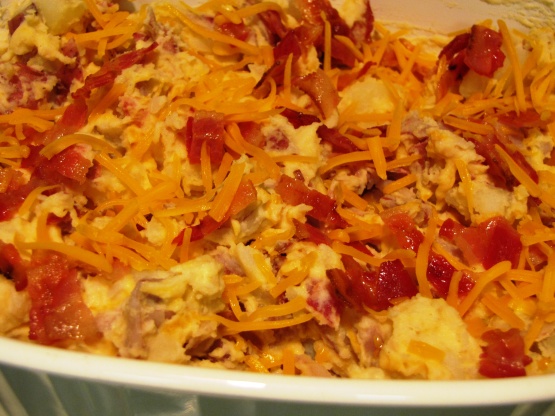 This recipe was the Side Dish Winner of our 2007 Holiday Recipe Contest of the local newspaper.

Love the flavor of this but I cooked the potatoes too long and they went to mush..... my bad. next time I will try not to cook as long or make larger chunks.
Fill 6-quart pot two thirds full of water, add crab boil and stir until blended. Cut potatoes in half and slice in 3/8 inch thick pieces. Add potatoes to pot. Bring to boil and cook until fork tender. While potatoes are cooking, fry bacon on medium heat in saute pan until crispy. Remove and drain on paper towels. Add red onion to bacon grease and cook until caramelized. Just before onions are done, add garlic and cook until lightly brown.
In serving bowl; add butter, half the cheese, half the bacon bits, half the green onions, cooked red onion, garlic, cayenne pepper, paprika, salt, pepper and sour cream. Mix thoroughly. Strain potatoes and add to bowl. Let stand for a few minutes or until cheese starts to melt. Fold ingredients together, trying not to break of the potatoes excessively. Top with remaining cheese, bacon and green onion. Check seasonings and adjust to taste.