Tisme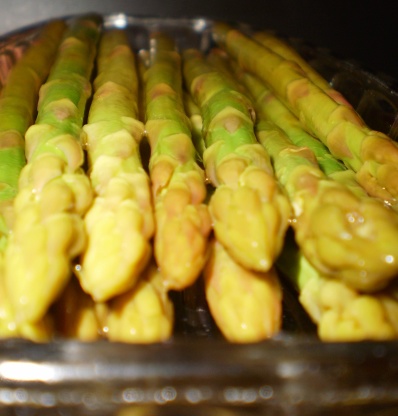 Nice as an appetizer or on a salad plate.

Top Review by Tisme
I can't believe this recipe hasn't already been made, such a shame because this is one great recipe. I followed the directions almost exactly as I did leave out the pecans (not a fan).
I adored this recipe the aparagus was crisp, refreshing and tasted just so wonderful. The aspragus marinated so well overnight and the taste was all through the asparagus. Ummmm I must admit that I did eat most of it on my own, nobody in the family likes asparagus much so DD only got a little to taste and she loved it as well.
I also had some rolled in a slice of fresh bread, I was in fantasy land, it was just so nice in fresh buttered bread!!!!!...... lol
I will make this so much over summer, I just know it!!!!!
Thanks for posting TansGram............ I just love this recipe.
Made for January Special - Bargain Basement Tag Game
Remove tough ends from asparagus spears. Bring 2-3" of water to a boil.
Drop in asparagus and cook 1 minute.
Drain and plunge into ICE COLD water immediately to cool quickly.
Put asparagus into a zip top bag with the remainder of the ingredients.
Marinate overnight.