Goldfish Checkerboard Sandwiches
CandyTX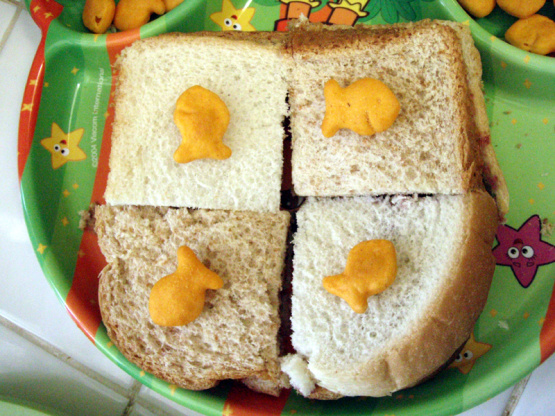 This is a fun way to eat your sandwich! From the Pepperidge Farm folks.

what a wonderful idea! thanks for posting....nieces and nephew loved it.
1

slice white bread

29.58

ml crunchy peanut butter (or smooth)

1

slice whole wheat bread

29.58

ml grape jelly (or your favorite jam)

4

goldfish crackers
Spread the white bread with peanut butter.
Spread the whole wheat bread with jelly.
Put the two pieces of bread together.
Cut sandwich into quarters. Turn over 2 quarters.
Place back together on plate to resemble checkerboard.
Top each quarter with 1 Goldfish cracker.
Serves 1.