Glazed Grilled Turkey - Barbecue
Peter J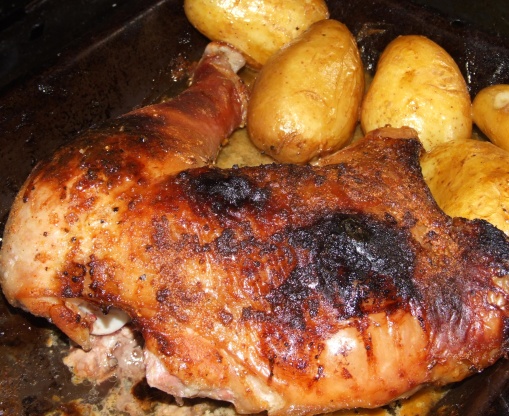 Cook until the meat thermometer registers 160 degrees F. Try this with chicken.

Loved this glaze! I used 1/4 of the quantity for a 2lb turkey leg and that was ample and after sprinkling the spices rubbed them in and then spooned the glaze over the top to help prevent it rubbing off. It also added a really nice flavor to some roast potatoes.
Heat one side of grill medium heat.
Brush drumsticks with cooking oil.
Sprinkle with coarse-ground pepper, Salt, chili powder, garlic powder.
Place the drumsticks on grill not directly over flame.
For Glaze- In a small bowl, mix brown sugar, Worcestershire sauce, Dijon mustard, orange juice and zest.
Brush a little on turkey.
And continue to baste till done.
Lower grill hood and grill for 45 minutes to 1 hour or until tender but no longer pink, turning once.
Place on foil if turkey gets to brown.