Axe1678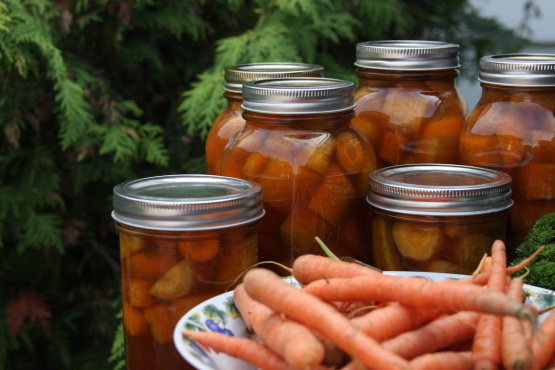 From Ball Blue Book of preserving. I hate to admit this but I had a case of 'canning fever', my boys ate our carrots from the garden when they were only an inch long and I just felt I 'had' to can something, So bought the carrots from the supermarket...whew it felt good to get that out of my system! Yield varies- 6 pints or 3 quarts

I made glazed carrots as part of our recent thanksgiving dinner, using a very similar recipe. They tasted amazing and were gone quite quickly, though I admit I underestimated the cooking time of the carrots and they held up the rest of the dinner. How cool would it have been to simply reheat? Very :D I'll be trying this tommoro. One important note: Botulism spores exist in dirt and cling to food pulled from the ground. You should clean your carrots very very well or, better yet, blanch them before canning. A canned batch of root vegetable is an ideal environment for yucky (and possibly deadly) botulism to develop full blown.
Wash and peel carrots. Wash again. Cut carrots into 3 inch pieces. Slice thicker ends in half lengthwise.
Combine brown sugar, water and orange juice in a saucepot. Cook over medium heat, stirring until sugar dissolves. Keep syrup hot.
Pack carrots tightly into hot jars, leaving 1-inch headspace.
Ladle hot syrup over carrots, leaving 1-inch headspace. Remove air bubbles. Adjust two-piece caps.
Process pints and quarts 30 minutes at 10 pounds pressure in a steam-pressure canner.